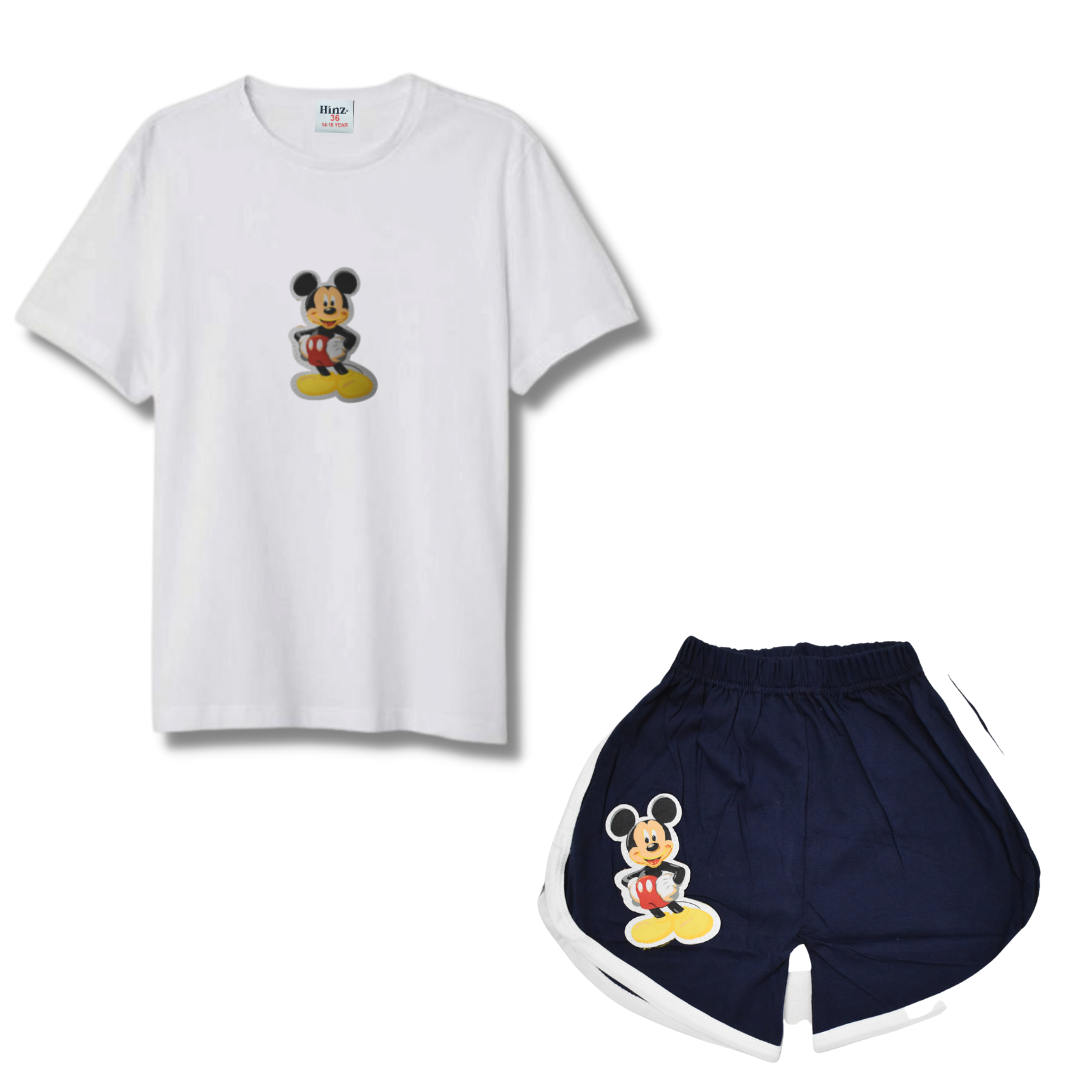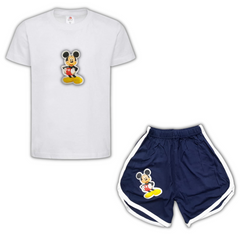 Boys Micky Mouse T-Shirt & Nicker Set
Please hurry! Only 1 left in stock
Boys Micky Mouse T-Shirt & Nicker Set
Buy the best Boys Micky Mouse T-Shirt Nicker Set in Pakistan online. Hinz is a top Boys Classic T-Shirt And Nicker Set brand in Pakistan. buy t-shirts and nickers online. We produce high-quality, comfortable, and low-cost products.
Pure Cotton: bio-washed for soft hand feel & eco-friendly print
Best for Casual wear, regular wear, evening wear, smart casual wear for any occasion
Style: Kids T-Shirt and Nicker Set
Designed with comfort and performance in mind with an elasticized waistband
Made in Pakistan
Normal Wash only
Please Your Kid with Boys Micky Mouse T-Shirt & Nicker Set
This T-Shirt & Nicker set from "Hinz International" is made of 100% cotton for comfort and warmth. This Nicker has high-quality printing on the front chest that runs all over the Nicker to give it a very nice look. The color of these clothes is beautiful and vibrant. This "Micky Mouse" fitting is a classic shape that can be used during any season.
Little kiddos, this little Mickey mouse comes in a T-Shirt and a Nicker Set for your very dear boys. The Micky mouse print will surely add zing to his clothes. Both the clothes are made from 100% Cotton and have been stitched by expert professionals.
This knitted Nicker & T-Shirt set from Hinz is an amazing gift item from Pakistan, which adds a cute and charming touch to your little one's look in a simple way. The pack consists of a lovely T-shirt and a pair of matching knickers in a desirable combination color.

Cute & Cozy Boys Micky Mouse T-Shirt & Nicker Set
The design and colors of this set are just beautiful and the look and the feel of the fabric are amazing. The colors and decoration on the Nicker and T-Shirt match well with each other. The embroidered neckline on the t-shirt makes it look so cute. The Nickers are so soft and comfortable to wear, they will definitely keep your little one cozy this winter season.
This premium quality t-shirt & nicker set. It consists of a soft 100% cotton t-shirt with the best printing on the front side. Heavy-weight 100% cotton nicker with embroidery on front, back, and sleeves.
Traditional clothing brands in Pakistan are expensive and not that fashionable. Hinz is a brand born from the aspiration to create something that is not only affordable but also of great quality & can make a difference in your child's wardrobe. Boys Micky Mouse T-Shirt & Nicker Set. Boys love Mickey Mouse, but the price of branded garments is too high. It's painful to see your child wear a cheap-looking knock-off. Or get teased for wearing a boring white shirt or jeans! Give your son a childhood he deserves – one filled with fun and excitement. What's more exciting than wearing Hinz Boys Micky Mouse T-Shirt & Nicker Set?
Sometimes, kids can be a handful to buy gifts for. They always have an opinion on what they want. And it's usually the most expensive thing in the store. Hinz has hand-picked and designed some of the coolest funky kids' stuff around. Our designs are original and exclusive with prices to match. If you want your child to look like no other, our boys Micky Mouse T-Shirt & Nicker Set is an outfit that will make them stand out from the rest!
Don't you think your little one deserves the very best? We certainly do. But picking the perfect outfit for your child can be both time-consuming and frustrating. We know how important it is to keep each generation in mind, which is why we produce clothing that is not only stylish but also age-appropriate. This particular set of clothing has been designed with boys in mind - from our Micky Mouse T-Shirt to our Nicker (pants) set - it's truly one of our most charming outfits yet!
You might also like this;
https://hinz.pk/product/girls-and-boys-high-necks/
T-Shirt
Soft, comfortable, nice colors and reasonable price
T-Shirt
Soft, comfortable, nice colors and reasonable price
Size Chart
">
T-Shirt
Soft, comfortable, nice colors and reasonable price